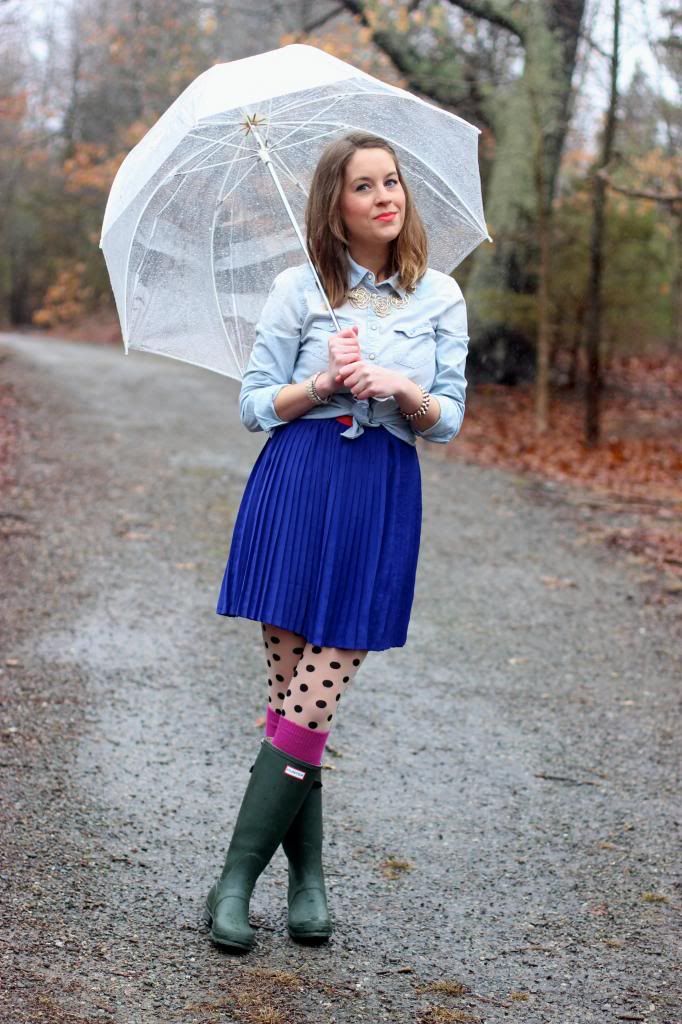 Chambray shirt: American Eagle Dress: Urban Outfitters Tights: South Moon Under Socks: Urban Outfitters Rain boots: Hunter Bubble Umbrella: Local boutique Lips: Revlon Colorburst Matte Balm in Audacious

Happy Friday! Who's ready for the beautiful weekend ahead?! I'm pretty stoked that this slightly warmer weather is starting to stick. We've definitely had our fair share of precipitation already this spring. I suppose April showers really do bring May flowers, but it's still no fun to be out in the rain unless you're singing, of course. We all know that some rain gear can be pretty drab, so one of my favorite ways to brighten up my outfit on a rain day is with a pop of color and/or a fun umbrella. I've had this umbrella since college and I'm still in love (I don't care how much my friends make fun of it).
Hunter rain boots are my go-to in wet weather and since it's still a little chilly here in New England I've been layering up my legs with tights and over-the-knee socks. Lately, I've preferred wearing dresses when it rains because it's a lot easier to get out of my boots with tights on than socks and skinny jeans. But maybe that's just my own weird problem. How do you guys get "dressed up" for a rainy day?