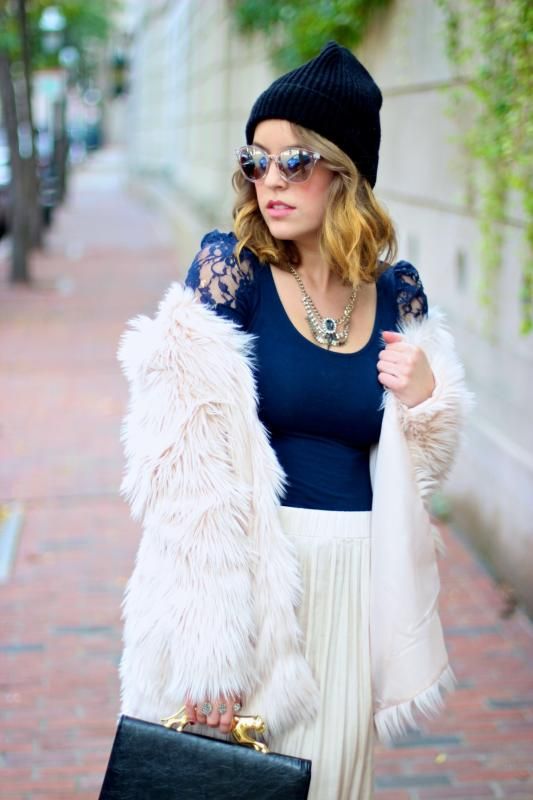 Faux Fur Coat: c/o H&M Top: H&M (old) Skirt: H&M Bag: Urban Outfitters Shoes: Nine West Hat: c/o H&M Sunnies: Free People
Happy Thursday! First of all, how is the high 72 degrees in mid-October? It feels wrong to complain about this, but I'm a little weirded out. Talking about outerwear today seems a little out of place, but the show must go on. Shopping for cooler weather items, whether it's actually cold out or not, is usually a pretty enjoyable experience for me. No need to worry about your food baby belly showing because instead of trying on crop tops, you get to try on sweaters that are 2x your size and no one will ever know that you had Bolocco for breakfast and lunch. Magic. Ok, all jokes aside, beyond the chunky scarves and oversized sweaters, outerwear is one of my favorite categories to shop for. In the past, I've focused on coats and jackets in neutral colors or classic silhouettes. However, this season I've been drawn to bold, trendy styles like capes, wide-cuts, bright colors and faux fur.
Faux fur, whether it's neon blue or beige, will add the perfect amount of luxe to your closet. I loved this faux fur jacket because of it's a light to medium weight (perfect for layering over sweaters) and the versatile light pink hue. Plus, it is so soft. I couldn't stop petting the sleeves while I was wearing it. And I know some of you probably think I look like a yeti, which is true, but I double dog dare you to give faux fur coats a try. You will feel like a rock star when you put one on. If you don't think you can go full yeti, try out a vest option. They're equally as cozy!
What do you think of my look? Will you be giving faux fur a try this season?