Happy Sunday! If you got snow this weekend, I hope you are enjoying it! This time last night I was really hoping for a snow storm for the sheer sake of being able to have a snowy photo shoot today. Obviously, mother nature cooperated. Waking up to a winter wonderland was quite magical but shooting in it wasn't! There are so many outtakes of this shoot where I look like I'm crying because the wind was so unbearable. (Spoiler alert: you may be seeing some of those outtakes in tomorrow's post). Anyways, if you saw yesterday's post you may have noticed I got bangs. I'm trying really hard not to dye my hair for a while and the only other option was a new cut. So, here I am with some spiffy new bangs! My inspo was Zooey Deschanel, hence the title of this post. Plus, I thought these amazing polka dot tights I picked up from South Moon Under were something Jess from New Girl would definitely wear.
I also felt this title would be appropriate because this past month has been a whirlwind of new experiences for me. I landed my first big girl job in the real world and it has been awesome. It's also been really tiring. I wake up early, I get home kinda late and I'm constantly exhausted. Now, you're probably wondering, "K.tab, why are you complaining about life on your blog right now?" Well my friends, I'm letting you know this because the majority of my time at work is spent on the computer and the last thing I want to do when I come home is open my laptop. This has been bad news for Style Tab. I've done a terrible job of updating this month and it really upsets me that I haven't had enough time to provide fresh quality content for you guys.
BUT, one of my resolutions for 2013 is to perfect a way to manage my time wisely so I can continue to blog consistently with a full-time job. My new name of the game will be quality over quantity. I know it's going to be a tough but exciting journey and I hope you will still continue to check in on Style Tab, even if I don't update as much as I used to! I've had so much support from other bloggers and readers over the past year and a half and I don't expect that change. So here's to a new year and a new outlook on life! And if you want to keep up with my daily adventures, follow me on Instagram or Twitter, because I update those most frequently 😉
P.S. New contest announcement will be up tomorrow! Stay tuned!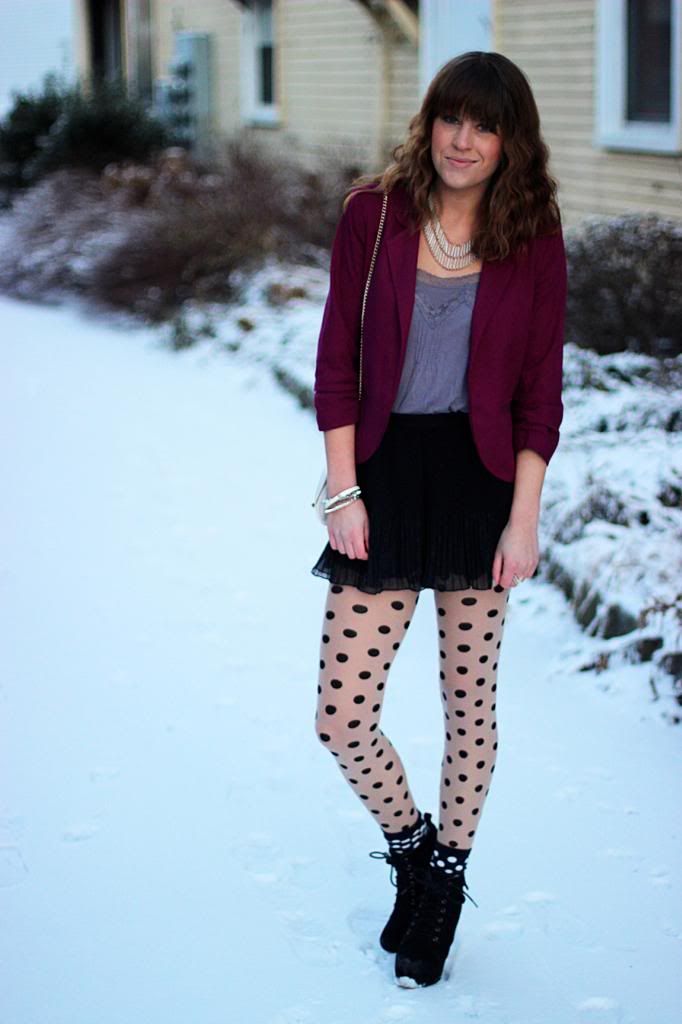 The Look:
Blazer & Top: Urban Outfitters (similar here and here)
Shorts: H&M (similar)
Necklace: Francesca's
Tights: South Moon Under
Socks: Dunno, Mom gave them to me for Christmas 🙂
Shoes: Bakers