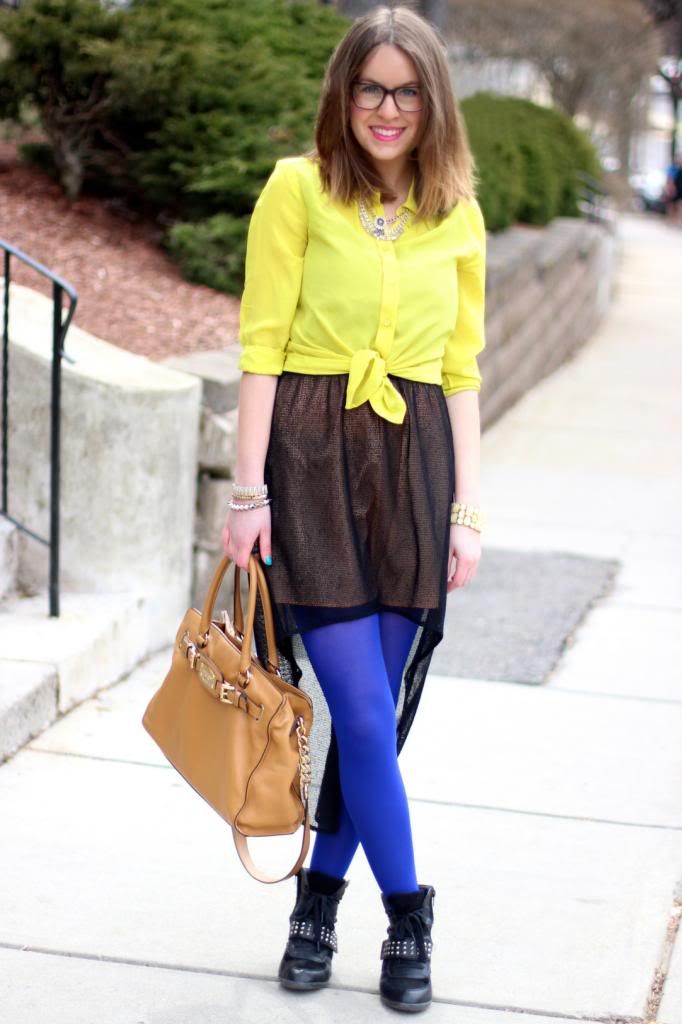 Blouse: H&M Dress: Ziezo (St. Louis) Sneakers: Bakers Bag: Michael by Michael Kors via Marshalls Necklace: Urban Outfitters Glasses: c/o Warby Parker Lip color: Revlon Color Burst Balm Stain in Lovesick

Happy Sunday! It's no secret that sporty chic is one of the biggest trends for spring. From bold mesh ensembles at Gucci to silky track suits at Marc by Marc Jacobs, everyone's getting in touch with their inner Sporty Spice. But let's be real, wearing a mesh crop top and baseball hat isn't the most practical of outfits for everyone's day-to-day routines. I've found that the key to wearing this trend is to pick one one or two "sporty" elements to add to your everyday look. For this ensemble, I went with a mesh fabric dress and spiked wedge sneakers. This mesh dress is a bit on the casual side so I added the button down blouse and tights to make it more appropriate for work. I'm a huge fan of wedge sneakers because not only are they comfortable, they're really easy to dress up.
If you're not into mesh fabrics or wedge sneakers, dressed up track pants are another great option under the sporty chic trend. I've also been obsessing over slip-on sneakers like Converse and the Keds for Kate Spade collection. Will you be sporting this spring trend? How do you incorporate athletic-inspired pieces into your wardrobe?