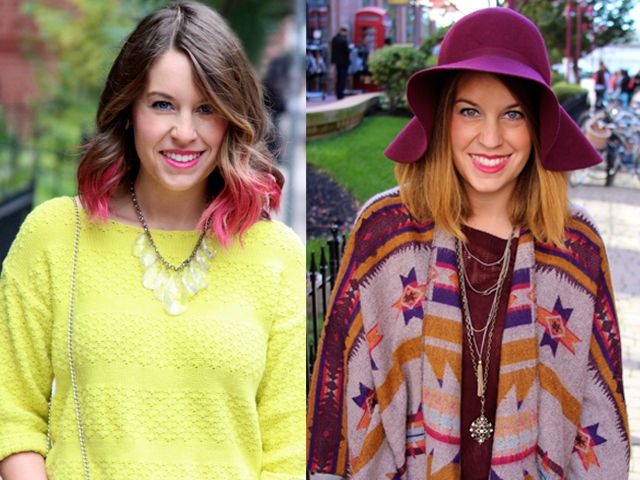 This post is brought to you by Brand Backer and Redken. I was gifted the hair color products in this post. All opinions are my own.
Today, I'm so excited to finally share that Style Tab is on YouTube! For my debut, I'm reviewing the Redken Color Rebel hair makeup in Punk'd Up Pink. I also used another color, Gilty as Charged, which you can see in the beginning of the video. I've also included images and reviews of both colors in this post. I'm so excited to share this video and I plan on this being one of many more tutorials and video style guides. I'd love to get your thoughts and feedback on the video, so please feel free to comment here or on my YouTube page with your thoughts! I hope you guys enjoy it, and try not to make fun of me too much 🙂 Read on for my complete review of both colors.
I've been dyeing my hair since I was 14, so the fear of destroying my hair in one fail swoop has been gone for quite some time. However, for many people the idea of dyeing their tips pink for an ombre look, or even just getting highlights can be pretty daunting. Well friends, do I have news for you! Redken recently came out with a new breakthrough in at-home hair dyeing. It's called Color Rebel hair makeup, a temporary way to switch up your look and turn your hair into your favorite accessory. The simplest way I can describe it is a paint pen for your hair.
Color Rebel deposits a very fine colored micro-coating on the surface of the hair, making it resistant against water and mechanical aggressors, such as brushing, blowdrying or flatironing. The hydrophobic nature of its micro-coating limits modification or transfer due to water. The water-based ink allows for easy flow through the sponge applicator and dries quickly.
I used Gilty as Charged a week before I used the Punk'd Up Pink to create a lighter base for the pink to show up better. Gilty as Charged is a metallic golden color and in my opinion, the least extreme of the colors available in the Color Rebel family. I already had a blonde ombre look going on, so it was hard to tell if the gold was showing up during my first application. After a few hours I ended up re-applying because I wanted the gold to be more vibrant. I highly recommend layering on the color with multiple applications. You can always add more color as you go, not vice versa. Although the packaging on the hair makeup says the color will wash out in 2 shampoos, the gold was still going strong after 4 shampoos. I'm guessing this is because I layered on a lot of color in each application.
The following week I tried out the Punk'd Up Pink and this color was much more vibrant and easier to see as I was applying it. This may have been due to the fact that my hair was lighter from the gold base. As you'll see in the video, the foam tip applicator makes it really easy to apply the color to the hair. I was able to color almost all of the ends of my hair, by myself, in about 40 minutes. I was happy to find out that the color didn't have an unpleasant odor and the color easily washed off of my hands after each application.
Overall, this product was super easy to use and I definitely recommend it if you've never dyed your hair at home before. I think this would also be great if looking to temporarily switch up your look for a special event such as a music festival or a crazy Halloween costume. The only thing I was disappointed by was how my hair felt after the application. My ends were pretty dry and brittle, so I suggest using a little bit of Moroccan oil on your ends afterwards or do a quick rinse with a bit of conditioner. As I mentioned earlier, the color definitely lasted longer than two shampoos for me, but the life of hair dye is very dependent on the porosity of your hair. To be conservative, I'd say don't expect this product to wash out as quickly as it claims. If you end up hating your results and want to remove it immediately, Redken recommends to wash hair with Redken Hair Cleansing Cream. Additionally, you can apply a drop of Redken Diamond Oil Shatterproof Shine or All Soft Argan-6 Multicare Oil to the area where you would like to remove the color. Rub the hair between your fingers until the color pigment dissolves.
Have you ever dyed your hair a crazy color before? Will you be trying out the Color Rebel hair makeup?