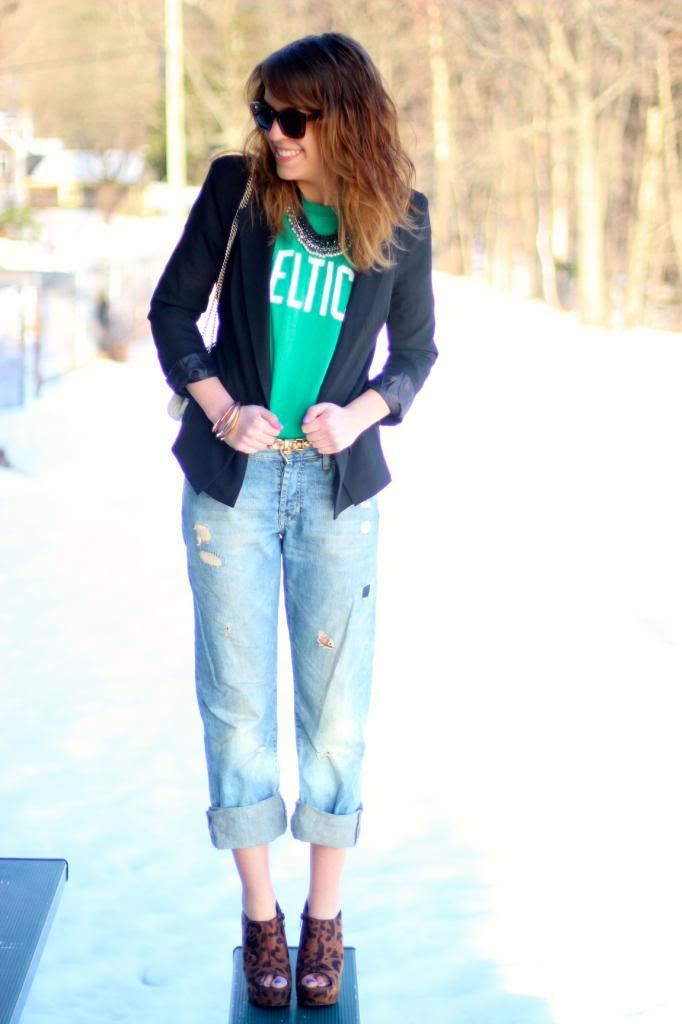 Denim: H&M (similar) Shirt: my boyfriend's (similar) Blazer: Forever 21 (similar) Wedges: Bakers (old) Bag: Vintage Sunglasses: Urban Outfitters (old) Eyeliner: Sephora (similar)
I'm getting pretty excited to celebrate my homeboy St. Patrick this weekend. Boston is supposed to have one of the best St. Patty's day celebrations and I'm on the prowl for some green gear to wear during all the drinking festivities. Urban Outfitters is always my go-to for stuff like this, I'm really loving all their slightly inappropriate t-shirts in their St. Patrick's Day shop. I also wanted to sport a festive outfit in the real world too, not just during my "I think I'm still in college" weekend activities. I honestly don't have very many green pieces in my closet, so I decided to shop around my boyfriend's instead.
I love the idea of dressing up a t-shirt and jeans, so I opted for his Celtics shirt and my H&M "boyfriend" jeans. The key to wearing menswear pieces is to find a happy medium between masculine and feminine, which is why I paired mine with a fitted blazer, leopard wedges and a statement necklace. I was also really excited to try out my new green liquid eyeliner I picked up from the Pantone for Sephora line. Believe it or not this was the first time I've ever used liquid eyeliner. I was a little nervous about it, but the brush was so easy to use and I absolutely love the color. I highly recommend it!
How will you be getting festive for St. Patrick's Day?