This post was sponsored by Valentia Skincare & BrandBacker. All opinions are my own.


Happy Hump Day! Today I wanted to share one of my latest beauty go-to's: the Valentia Skin Care's Vitamin C Serum. After reading this article a few weeks ago about skin tips for your 20s, I had this weird revelation that I should probably be taking better care of my skin. I've read tons of those articles in the past, but for some reason this one really hit home for me. The article mentioned that it's never too early to start using anti-aging products and to seek out products with antioxidants and vitamin C. So when the opportunity presented itself to review this Vitamin C serum, I jumped at the chance.
I've never used a face serum before, so I wasn't really sure what to expect or how my skin would react. My skin is pretty oily and acne prone at times so I wasn't expecting a miracle, but this serum really has done wonders. After applying 3 drops of the serum to my face and neck every night for the past 3-4 weeks, my skin has become tremendously smoother. I've also only had one pimple pop up, despite the fact that Valentia warned that a temporary breakout could occur when you first start to use the product. I think the fact that I was putting more of an effort into my skin care routine (i.e. using a face mask twice a week and washing my makeup off every night) in conjunction with the serum has definitely enhanced the effects. Overall, I've been very happy with the serum, plus it smells amazing. Since it's only $35 on Amazon, I will most likely be replenishing my bottle when this one is done.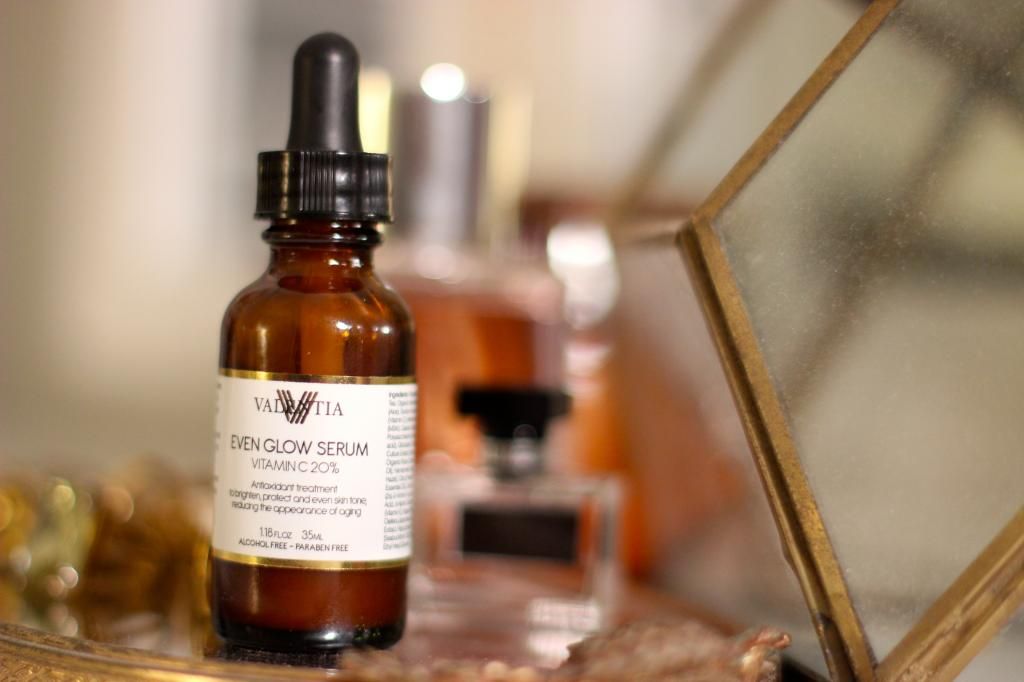 Here are some of the key ingredients in the serum, as explained by Valetina Skin Care:
Vitamin C: With a 20% concentration does more than boost the body's immune system; it also provides many benefits to keep the skin tight, smooth and looking ageless. Vitamin C has been scientifically proven to reduces the effects of sun exposure on the skin, including sunburn, sun spots, redness and wrinkles.
Organic Rosehip Seed Oil & Organic Sea Buckthorn Oil -These oils promote skin hydration and lock in moisture to protect your skin from signs of aging and improve its beauty and youthfulness. Rosehip Oil has been specifically used in medical communities around the world for those with serious skin ailments and only recently been embraced in North America. These two organic oils are full of antioxidants and therefore act as the perfect supporting cast for Vitamin C.
Resistem (Plant Stem Cells) – This provides the perfect mix of protection from stress-related aging and promotes skin detoxification. Resistem will help your skin regenerate faster while protecting it from environmental stressors.
Hyaluronic Acid (Botanical) – Holding up to 1000 times its weight in water and drawing moisture out of the environment and onto the surface of your skin, this is one of the most effective moisturizing agents on the market. It penetrates deeply to activate collagen production for a fresher, younger, firmer, and brighter complexion.
Green Tea Extract – The catechins in green tea are a potent antioxidants which contribute to the overall anti-inflammatory and anti-irritant benefits of this ancient health and beauty secret.
Have you ever tried a face serum before? I'd love to hear which products you use and love in the comments!