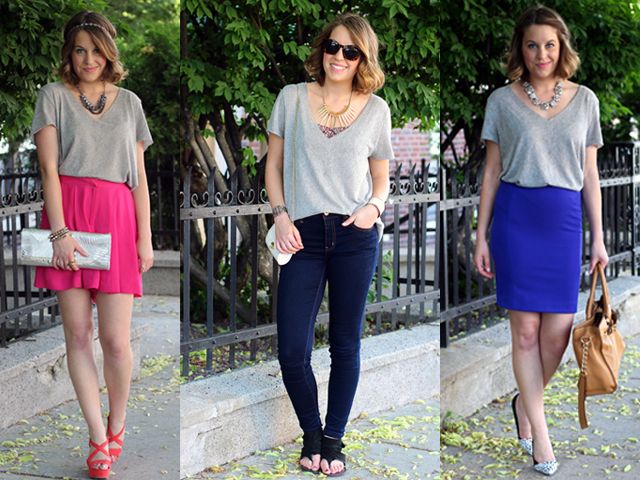 Happy Thursday! I'm really excited to be posting a new "Ways To Wear" feature today. For those of you, if any of you are still out there, that have been following me for a while you may remember some of my previous WTW posts. I've always loved doing these, but somewhere along the way I fell off the wagon with this until a few months ago. Although I took these back photos back in mid-summer, I think these tips can apply to any season, so that's why I said to hell with it, I'm posting them anyway!
Ok, let's get down to business. Everyone owns a basic tee or v-neck and these days you don't need to reserve them for your hungover Sundays on the couch or gym sessions anymore. My go-to tee is the Project Social T from Urban Outfitters. Their tee's are made in the USA and have the perfect drape-y shape that makes them easy to wear tucked or untucked. Plus, I love the raw edge cut along the neck and hemlines. They're $34 and totally worth the money. I plan on buying my next one in the maroon color.
My favorite ways to wear a basic tee include the happy hour look, the casually pulled together look and the office look. Read on for tips and tricks for making the most of your v-necks!


Happy Hour: You can easily dress up a basic tee with a skirt or trousers in a bold print or color. The key to pulling off a tee for a slightly more formal setting is the right accessories. I chose to go with a sparkly necklace, a beaded headband and metallic clutch. Pair your look with a fun pair of wedges or heels to complete the ensemble. Other great accessory options are statement belts, drop earrings or a bold lip.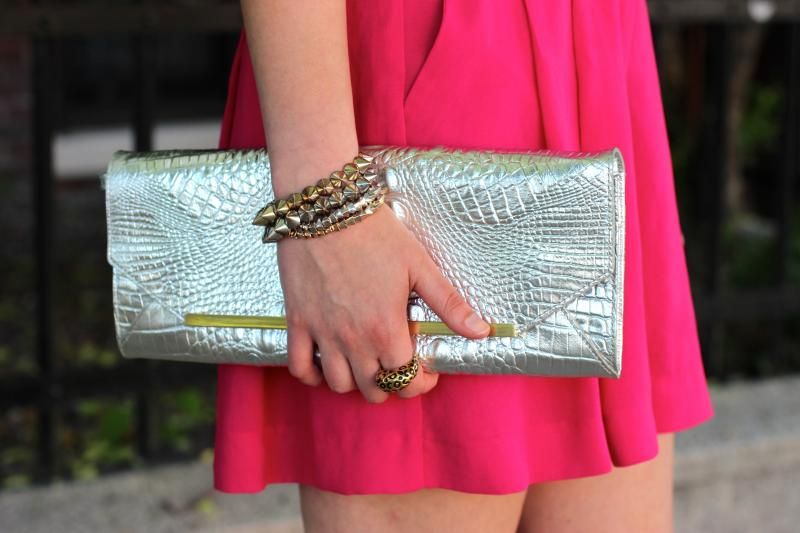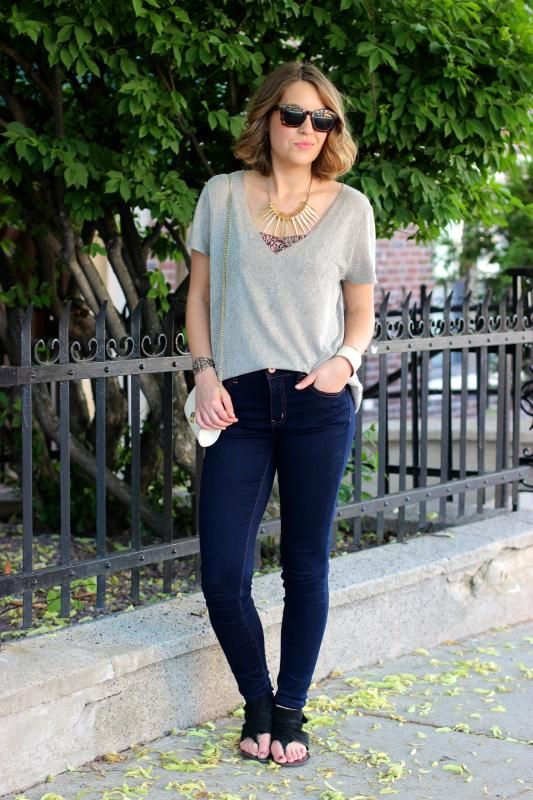 Casually Pulled Together: The difference between your run-of-the-mill jeans an a t-shirt getup is all in the details. For this look, I layered a floral bandeau under my v-neck for an unexpected twist. With fall finally upon us, I suggest trying this trick and then throwing on a knit kimono or chunky cardigan. Add a bold necklace and/or sunnies and you're good to go!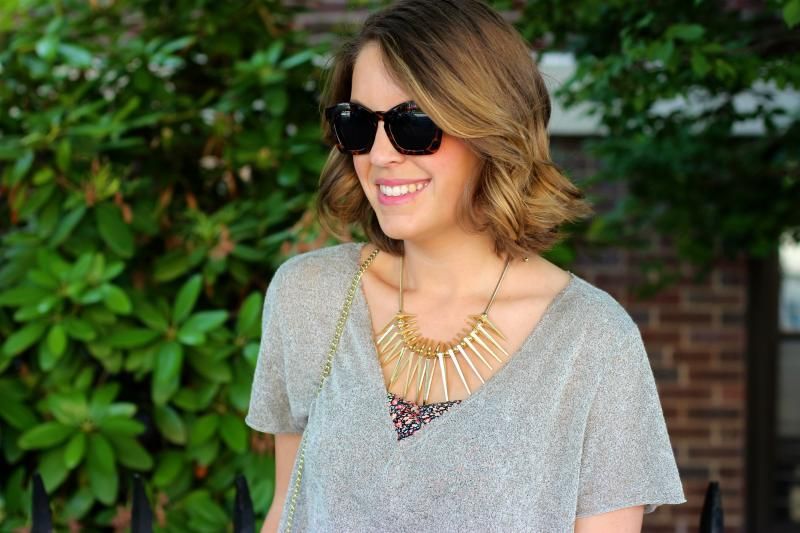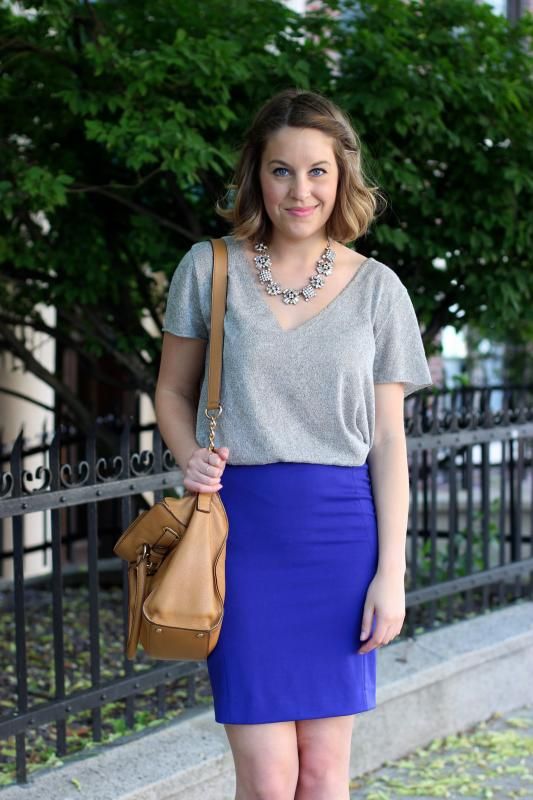 The Office: This one may be dependent on how casual or formal your workplace is, but it's quite easy to incorporate a basic tee into your work attire. You can pair your tee with a pencil skirt like I've done, a pleated midi, or a pair of your favorite trousers. It's important to keep your tee tucked in, otherwise your coworkers may perceive you as sloppy. You can also top off your look with a chic blazer or a simple cardigan.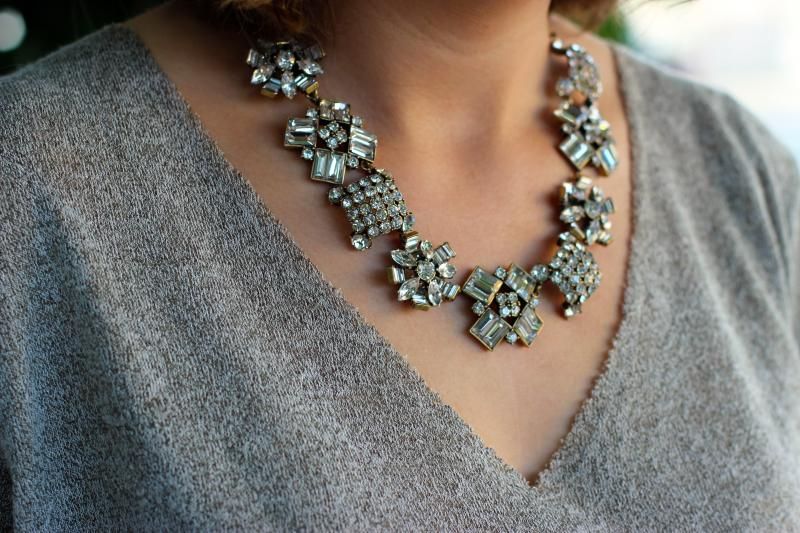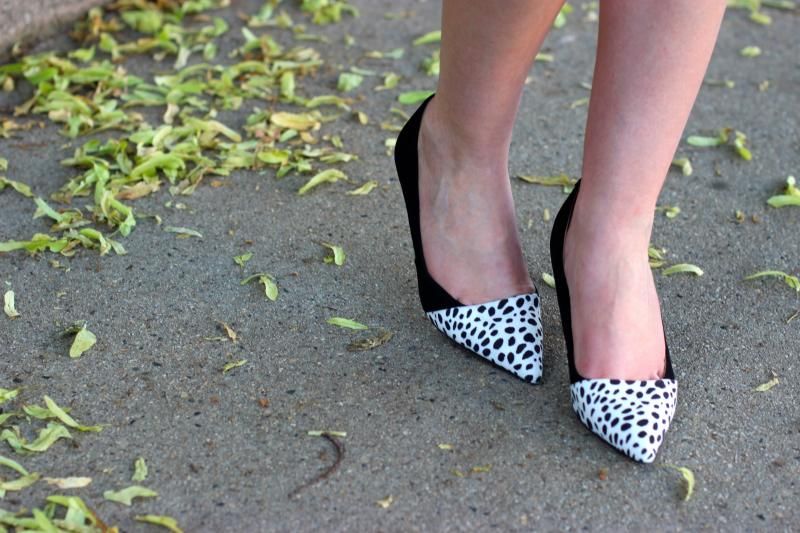 What do you think of my looks? How do you like to wear your basic tees?