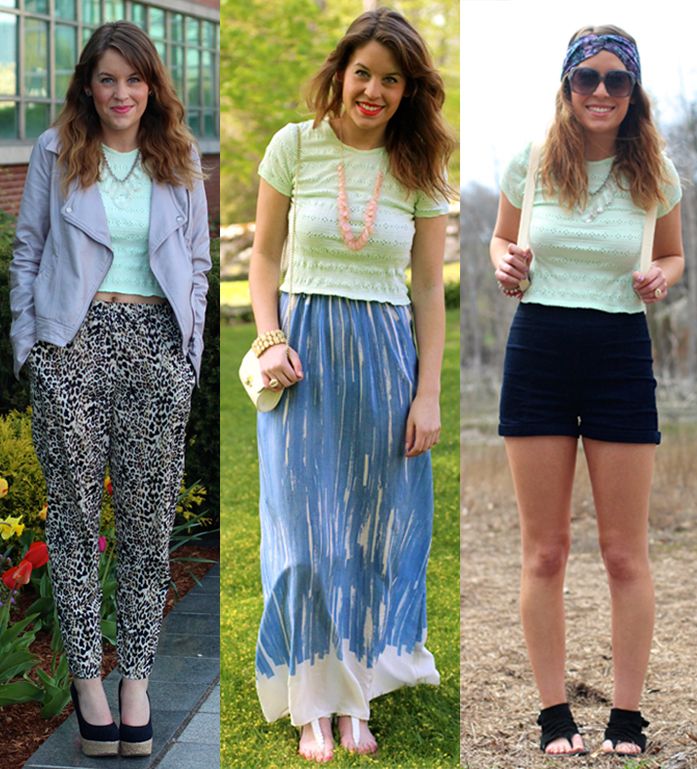 Happy Monday! So judging from the internet it seems like a lot of people have taken a liking to the 90s crop top resurgence over the past few seasons (myself included). And from the looks of the Fall 2014 Resort collections of Proenza Schouler and 3.1 Philip Lim these baby sized shirts don't seem like they're going anywhere! But there's a very thin line between pulling off a crop top and looking like you accidentally cut half of your shirt off. Which brings me to my latest edition of Ways To Wear!
I was hesitant to buy this Urban Outfitters crop top, for fear that my money would be wasted on something I would hardly wear, but I was totally wrong. This crop top has become a staple in my wardrobe and has even inspired me to buy more crop top styles to wear for work. I know I sound like I'm losing my mind so keep reading to see how I appropriately incorporated the crop top into my everyday ensembles!
Keep'em

guessing:

So this rule doesn't really apply right now since it's like 90 degrees with 100% humidity, but the first rule of sporting a crop top in the "real world" (i.e.

not

at a frat party, music festival etc.) is to cover up. Proportion is

everythang

. I'm not saying you need to be covering every inch of skin, but a little modesty goes a long way. A little rule of thumb I like to follow is for every risqué piece of clothing you wear, pair it with

oen

or two parts modest attire. For this outfit, instead of a body hugging skirt, I opted for flow-y pajama pants and topped it off with a long sleeved moto jacket for good measure. Disclaimer: I wore this outfit to the Blog Better Boston conference and my belly button was covered all day until the moment I took this photo. Womp.
Layer up
: This kind of goes hand-in-hand with the first rule. Crop tops are perfect for layering. I've had the most luck with layering them over dresses and jumpsuits.
At
my office we're not allowed to wear strapless or spaghetti strap style tops and a crop top is the perfect way to turn my dresses into a work appropriate ensemble. This dress is actually strapless but the crop top falls perfectly in the midriff area to create a waist and keeps me covered.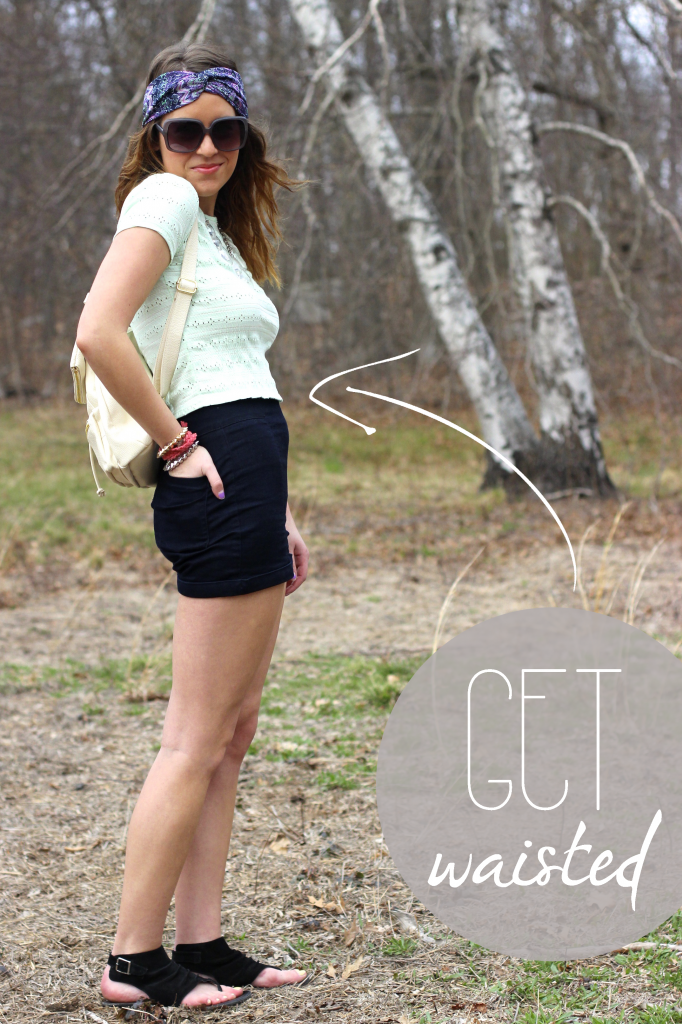 Get
waisted
: Hem and waist lines are major players when it comes to wearing a crop top in everyday life. Obviously, showing your bare belly in broad daylight is pretty daunting, but luckily there are many retro high-waisted styles available right now to help equalize the proportions of a crop top. I personally love high-waisted bottoms of any kind. They're flattering, comfortable and keep everything sort of in their respectable places. (Almost like
spanx
but
wayyyy
more stylish.) How do you feel about crop tops? Have you tried incorporating them into your daily wardrobe?