Happy Super Bowl Sunday! Who are you guys rooting for? I'll be cheering on Baltimore because their quarterback went to UD. Go Flacco! So it looks like Mr. Punxsutawney Phil is predicting an early spring even though we've been having the coldest winter in years. I sure hope that little groundhog is right! It's always this time of year when I start to really hate winter. I've never liked winter to begin with and it's like once February hits I just can't bear another day of wearing numerous layers with tall boots. Shopping around this time is also tricky and somewhat torturous. All the new spring collections are rolling out and you're like "Um, yes I must have this perfect little sheer peach chiffon sundress!" And then you remember it's 25 degrees outside, your skin tone at the moment is practically translucent and if you purchase that sundress it won't see any action for another 3 months. Plus, you should really be saving that money for your groceries and your date with Taco Bell in a few hours.
At least that's how my shopping trip went last weekend. So I decided I'm just going to put myself on a bit of shopping freeze for a few weeks (hopefully) and work with what I've got. I've been really bored with my winter clothes lately so I decided to challenge myself to recreate some of my summer outfits for the current winter temps.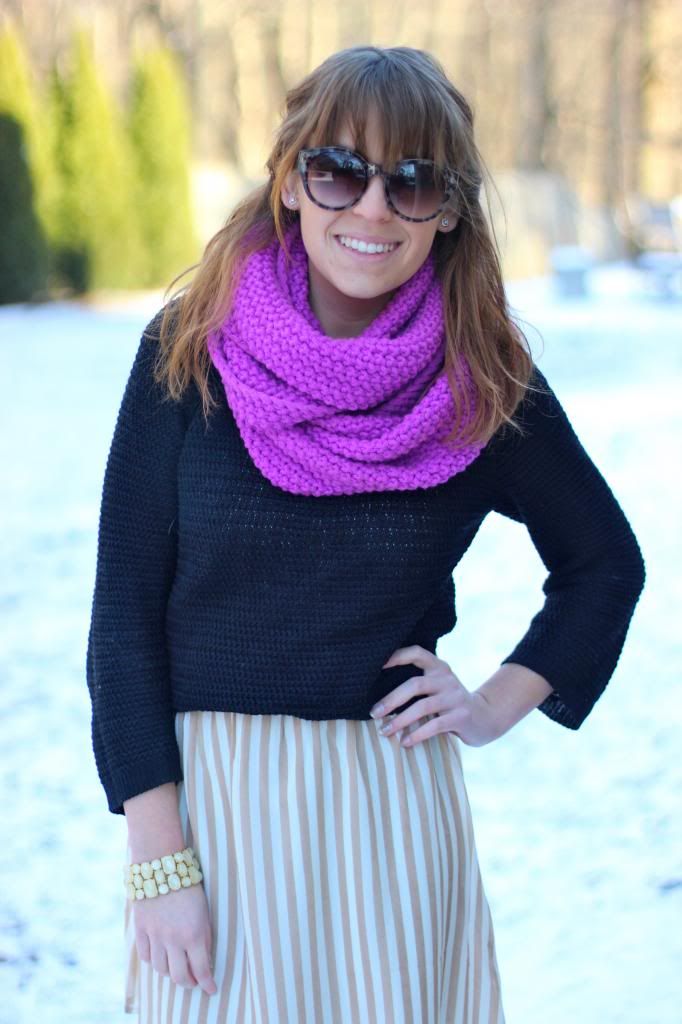 Some of you might remember this stripe-y little dress from my collab with Sugarlips. It's obviously a very summery dress: lightweight, lacy and the perfect neutral color to compliment your sun kissed skin. To make this dress wearable for right now, I layered a dark sweater over top of it, mainly for the warmth factor. (Wearing sweaters over dresses is one of my favorite things to do, you should really give it a go.) I liked the idea of contrasting the dress with darker colors to make it look less out of season. I didn't want to be too boring though so I added the purple scarf and pink loafers for a little pop of color. The key here is definitely making sure your color scheme doesn't scream spring/summer. If you have floral/pastel/neon dress you want to wear right now, make sure you're pairing it with winter items that are more subdued and darker to offset that. This outfit from Atlantic-Pacific is a perfect example.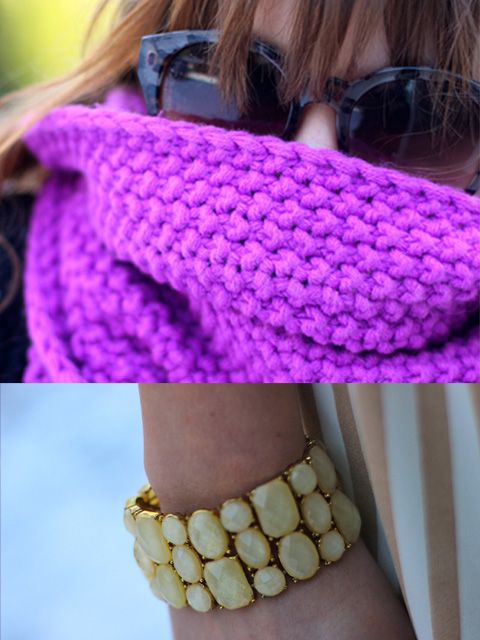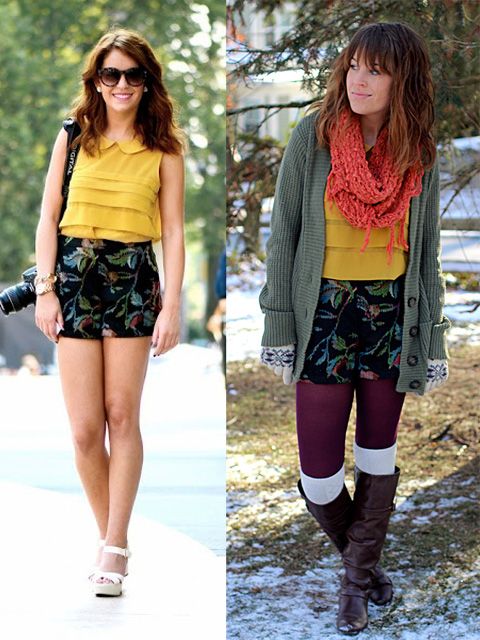 I got snapped in this outfit while capturing street styles outside of Lincoln Center this past NYFW. These shorts are one of my favorite thrift store finds and are actually great for transitioning seasons since the main color is on the darker side. Making this outfit work for winter is all about layers. Adding winter accessories like knee socks, scarves and gloves will make your summer look more appropriate for a snowy day. Also, never underestimate the power of a chunky cardigan; you'll be cozy warm and they work with practically any kind of top.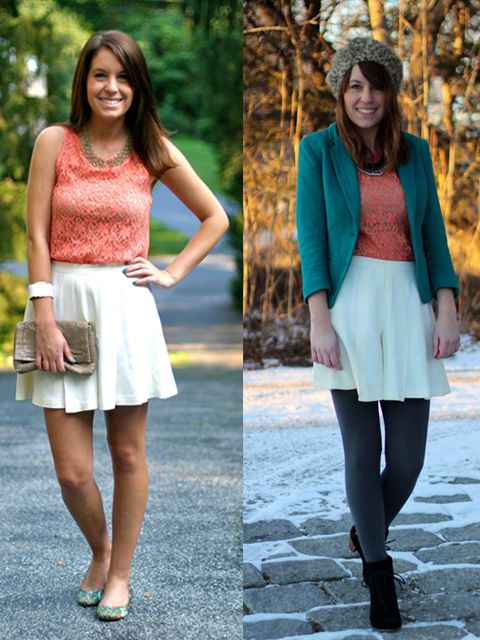 Necklace: Chloe + Isabel / Blazer: H&M / Booties: Dolce Vita (similar) / Top: Forever 21
Over the summer Yoplait had a contest to see who could style the best outfit inspired by their yogurt flavors and I decided to go with Orange Creme. I know a lot of people still consider white a big no-no after Labor Day, but I think that rule is pretty silly and outdated. Like the other two examples, adding winter appropriate colors/accessories is what really helps transition this look. Instead of opting for tights I went with thicker leggings for added warmth. The skirt is actually a pair of vintage tennis shorts so the material is very thin! I also added furry leopard beret to top this look off for an unexpected pop of print.